Questions and Answers
WEBSITE DEVELOPMENT
What platform do you use?
WordPress (used by over 60 million people).
How much does a website usually cost?
It varies.  We have created websites for as little as $1500 (simple "brochure" of less than 12 pages: home, about us, products, services, contact, social media links, etc.) to upwards of $25,000 (complicated websites with lots of bells and whistles). These cost ideas do not include hosting fees, domain fees and software fees which are additional.
For example, an e-commerce website (ranging from $7,500 – $10,000) with many products/categories/tags/cross-sells can be quite time consuming. Setting up a real estate website ($5,000 – $7,000 range) with IDX integration also requires many hours to set up (featured properties, sold properties, search, etc.). Our websites take into consideration the importance of  SEO (search engine optimization), so we properly tag our pages and products (especially in the case of e-commerce sites) to help you get found in web searches.
On average, our websites cost anywhere between $3,000 – $7,500.  Also, see the Website Maintenance section below.
What are your terms?
View our full terms and services here.
What's the process?
If interested, please contact us so we can offer a formal estimate based on your needs.  Also, please submit 3-5 website URLs of competitors or similar services that represent the look and feel of what you like so we are on the same page.
Once we have agreed to terms, you can expect a website to take anywhere from 3-4 weeks (simple website) to 3-4 months (intricate website) depending on your requirements. We use Basecamp as our project management system that serves as a repository for project updates, details, emails and requests.
WEBSITE HOSTING
What hosting service do you use?
Bluehost.  View Bluehost self-help resources here.
How much are my hosting fees each year?
Bluehost hosting fees start as low as $9.95 per month ($119.40 /year) billed on a recurring, annual basis. Although website specials from various hosting services may entice you to sign up, please note these are only "specials" and not their ongoing rate (hosting fees typically rise substantially at the one-year renewal). Transferring your website to another hosting service is billed at the current hourly rate; please request an estimate based on your future host provider. Same goes for domain names.
What happens if I don't pay my hosting fees on time? 
After 60 days past due, your website will be hidden from the search engines.  In order to show your site again on the web, full payment is required and a $50 reinstatement fee is charged. After 90 days of no payment, your account will be terminated and your website will NOT be able to be retrieved after this point.
How do I access my hosting control panel (cPanel)?
Go to http://www.yourdomain.com/cpanel and enter the username / password given to you at launch. If you have lost your login details, please contact us.
How much are my domain fees each year?
Current domain fees are $17/year.  Although you may see domain name specials from various domain services to entice you to sign up, please note these are only "specials." Your fee will rise substantially at renewal.
What happens if I don't pay my domain fees on time? 
As a courtesy and acting on good faith, Hammond Media Group automatically renews domain names for accounts in good standing.  Any domain names that have not been paid in full by your upcoming annual renewal will be terminated and your domain name will NOT be able to be retrieved after this courtesy one-year renewal period.
WEBSITE BACKUPS
Is my website backed up?
As a courtesy to new customers, Hammond Media Group automatically downloads a zip file of your website backup that is emailed to you to keep on your computer. We also go the extra mile by installing the Updraft Plus plugin on websites (with two separate backups) as well as saving the HTML for all your primary, original website pages (created at launch) in a secure location so that should a catastrophe occur, we can easily recreate your original website (for a fee) in a worst-case scenario situation by getting the foundation of your website (website pages vs. website posts) back up and running in a shorter amount of time. Finally, Bluehost runs weekly backups; however, they do NOT guarantee these backups.
In a nutshell, we highly recommend all customers create and manage their own backups; we recommend that you make weekly (if your website frequently changes) or monthly (for more stagnant websites) backups and store them locally on your home machine or burn them to disk.
To backup your files and folders you can use the Site Backup Pro tool, located in the File Management category within your cPanel.  Choose "Download or generate a full website backup" button and then first, generate it…then download and save it to your computer; see screenshot below.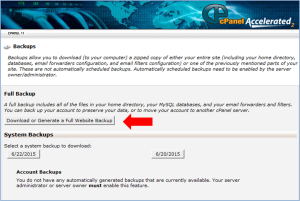 WEBSITE MAINTENANCE
What are WordPress plugins and why do I need to update them if my site if functioning fine?
WordPress is an open-source platform where developers across the globe create "plugins" that allow your to add functionality to your website. There are thousands of plugins, some are awesome and many are not.  We have a standard set of WordPress plugins we use (from Akismet Spam to MailChimp), and we will work with you to get the right plugins that not only work seamlessly with your WordPress theme (we mostly use Suffusion which is free and very flexible), but won't break your site.
If WordPress plugins are not updated, your site can be at risk for a security breach. Updates to WordPress core, plugins, and themes often increase security by patching vulnerabilities and strengthening against attacks. To reduce the risk of your site being hacked or compromised in some other way, update.
When any expert talks about WordPress security, one of the first things they mention is to install updates. Hackers and other malicious parties watch the release notes. As soon as they learn of a vulnerability, they start exploiting it which is why you need to update as soon as possible to reduce the time that your site is vulnerable. 83% of hacked WordPress websites had not been updated.  Read more.
Additionally, plugin updates allow the developer to fix bugs and/or add features and functionality.
Can you just handle all this website maintenance stuff for me? 
Yes. If you want Hammond Media Group to handle backups, update your plugins, etc. View our full list of website maintenance services here.  You can retain our website maintenance services on an annual or semi-annual basis. Our current fee is $120/month (auto-billed to cc on file), $660/six months (prepaid) or $1250/year (prepaid).
EMAIL
How do I set up my email in Outlook?
How do I set up my email in Mac Mail?
How do I access my email remotely?
Go to your webmail (http://www.yourdomain.com/webmail) and enter your email address and password you used when setting up your email.
How do I add an email to my account?
Go to the Mail section in your cPanel (http://www.yourdomain.com/cpanel), choose "Email Accounts" and follow directions.
How do I add an email forwarder to my account?
Go to the Mail section in your cPanel (http://www.yourdomain.com/cpanel), choose "Forwarders" and follow directions.
I can't send or receive emails?
At times, you may not be able to send/receive emails.  First, you should send yourself an email to test to see if you receive it and/or it sends. We have found that if you find yourself in this situation, just wait several minutes (ie. 30 minutes) and the problem resolves itself.  See potential reasons below; if the problem persists, please contact us.
There are several things which could be affecting your email:
Bluehost has a technical problem
Check your server status here — just enter your website domain.
There's a problem with your email account
If you haven't done so already try sending yourself some test messages. If these all work the issue may be with your email software or device.
An issue with your email software or device
If you can log into your account, but can't send or receive emails, your email server settings may have been changed, so you'll need to check these. Check out our post: "Setting Up Your Email in Outlook".
A large email is being sent
Large email attachments can cause your mailbox to lock, but it will unlock itself within 20 minutes. If the problem keeps happening, try deleting any emails over 3MB.
Your email account is full
Log in to your online email access. Then try deleting any emails you don't need – particularly those with large attachments.If you use a mail client (e.g. Outlook) and find that the mailbox on the server fills up, the client can be set to stop a copy of emails being left on the server, or reducing the amount of time they are stored. To do this in Outlook 2007 or 2010:

In the Tools menu (or File tab in 2010), click Account Settings.
Under Name, select the POP3 e-mail account that you want to change, and then click Change.
Click More Settings.
Click the Advanced tab, and then under Delivery, remove the tick from the Leave a copy of messages on the server check box.

Incoming emails are being identified as spam
If you're having problems receiving some emails, they could wrongly be being tagged as spam. The sender will get an error code 550.
Microsoft Office 365 upgrade ?
Upgrading to a new email service powered by Microsoft Office 365 could have caused some disruption to your email.